Available in different styles and sizes, there's calendar for every wall.
From bedroom to kitchen, there is a personalised calendar for every space. ✨
Create one-of-a-kind photo calendar with your best photos and cherished moments. Whether you are looking for the perfect custom gift this holiday season, birthday celebration, or for the cutest way to showcase favourite photos of your love ones, we've got you covered. Pick a size and get started!
Personalised your calendar with special photos, text and events to bring on the smiles all year long.
Create online, wherever you are
Whether you're at home or out and about, it's so easy to create your Calendar online.
Choose a pre-configured layout, add your own photos and mark special dates on your calendar.
Create instant memory with photos of your favourite people and treasured moments. Our Personalised Calendars are delightfully simple to create and beautiful in design & quality. Perfect gifts and keepsakes for family and friends!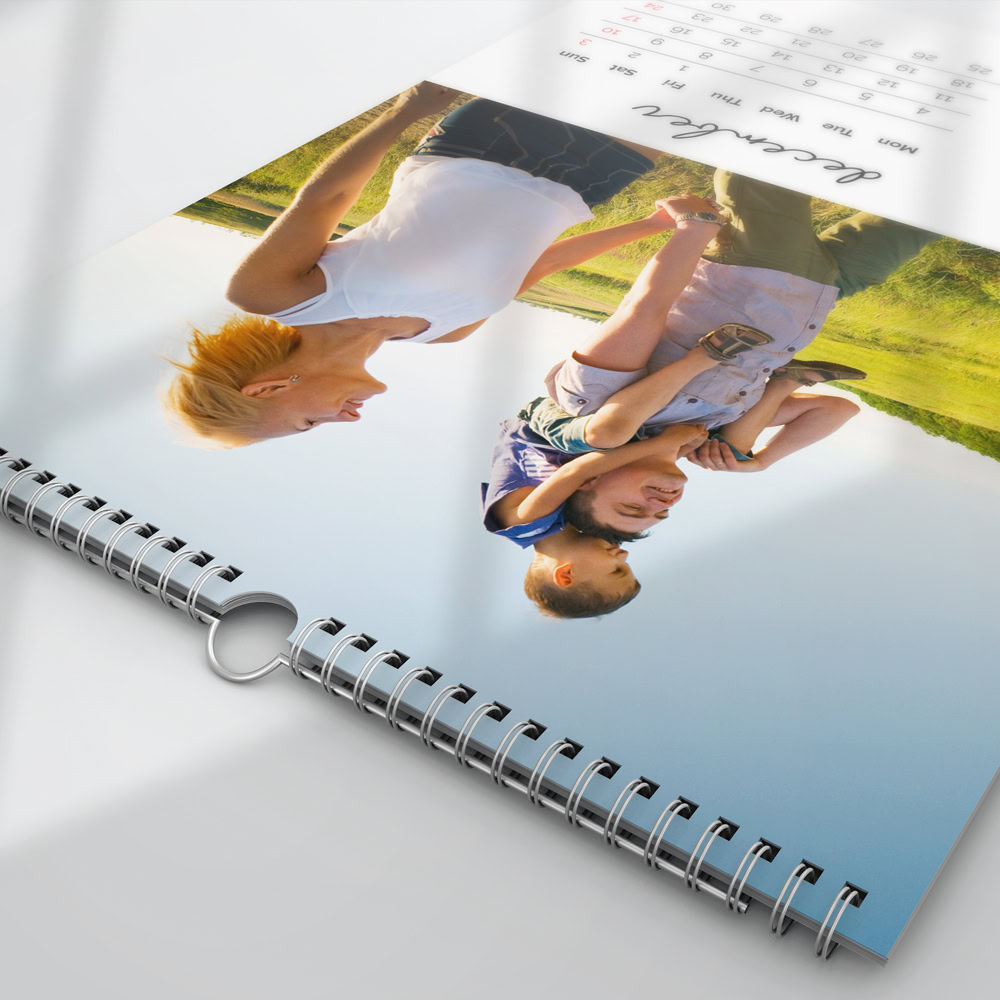 Guaranteed superior finish
We are totally committed to creating premium quality photo keepsakes with high end FSC certified stock, beautiful designs and personalised care.
Having fun is the best way
Creating photogifts should be fun. Reach out to our team if you have a question about the Editor or with design. Check out our FAQs or get in touch via Live Chat.
Celebrate every day and relive those moments that matter.
It's so easy to create the perfect photogifts for friends and family. Simply select your favourite photos from your camera roll to create your calendar online.
We pride ourselves on the high-quality of our photo calendars while making the creative process quick and easy. Your design is printed and produced by skilled specialists using our state-of-the-art printing equipment. At photogifts, we love to brighten up people's worlds by bringing special memories together in beautiful picture calendars. Our wall calendars are available in these sizes: A5, 28 x 21cm, 35 x 28cm, 20 x 30cm, 30 x 30cm. Page size for desk calendar is 20 x 15cm.
Make your own calendar
A photo calendar is a convenient tool, helping you to keep busy schedules organised. Photo wall calendars are also perfect reminders of precious time spent with friends and family. Our calendar maker is packed full of creative options with different layouts, formats, and backgrounds. When creating your photo calendars, you'll be able to fully customise your photo calendar using our range of backgrounds, frames, masks and clip art. You'll see why it's easy to make the best photo calendar ever.
Personalised calendar with Online Editor
Surprise grandparents or special family members by making a custom calendar especially for them. Select photos they'll love to see and personalise it by adding important family dates for the coming year. You can also start your personalised photo calendar or wall calendar from any month of the year to create a special calendar as a birthday or anniversary gift.
Useful tips
When viewing our pre-designs, keep in mind that the photos you see are all completely editable and removable: we've included them as examples but we want you to make your calendars truly yours, by using the moments that really mean something to you.
When using our Online Editor you'll notice that you can set up and preview your calendars in a few clicks. Remember to save your project from time to time. After you're done editing, complete your order via the basket icon. You'll be taken to the checkout page.
Photo calendars for wall or desk
Create a calendar in an A4, A3 or a square design or why not choose different shapes and sizes for different rooms of the home? With a large wall calendar in the kitchen or your office, you can keep track of family activities especially if your custom calendar is already printed with birthdays, anniversaries and holidays. When you order a photo wall calendars from photogifts, the choice is yours every step of the way. Each of our photo calendars comes with a sturdy ring binding ready to stand on your desk or hang on a wall. As the year goes on, flipping over the months of your 2021 calendar reveals a new memory.
Our online calendar maker guides you every step of the way. Decide whether you want one large photograph for each month or a collage made with several of your favourite pictures. Then, use the calendar creator to choose a size and shape along with the type of paper and finish. Now, the fun really starts. Play around arranging your photographs, add backgrounds, borders and clip art and when you're completely happy we'll show you how to order your calendar with photos.
Follow the steps of our calendar maker, to create a custom wall calendar that starts from different months of the year. This turns it not only into a seasonal gift but a beautiful birthday or anniversary present as well. Make keeping track of busy lives easy by displaying large wall calendars prominently in your kitchen or office. And, keeping everything on track is even easier when you order a calendar with photos that's also printed with your own choice of important dates and anniversaries. Smaller photo wall calendars are great for offices or fixing to the fridge door with a magnet while large wall calendars come with hook or holes for easy hanging.
The best photo calendars
The best photo calendars are ones customised to exactly meet your needs. With our photo calendar creator you can do so much to achieve the best results. When you make your own calendar, choose a range of background effects that include woodland and nature scenes as well as colourful abstract designs and attractive patterns. You can also finish your design with watercolour or paintbrush effects. We make it possible to make your own photo calendars, creating personalised calendars which combine usefulness with the ability to make you smile each and every time you check the date. You can make your own year calendars to give as special gifts to friends and family or simply to brighten up your own home or workplace, but no matter why you create your personalised calendars, you'll be crafting something which is totally unique whilst being produced to the highest professional standards.
Place an online order for a calendar with photos
Whether Christmas is around the corner or someone special has a birthday or anniversary coming up, surprise them by placing an online order for a bonusprint personalised calendar. Follow our simple steps to design and make your own calendar then, when you're happy head to the checkout and place your order. We know you're going to love your photo calendar.
photogifts ♥ photo calendars!