6 colour printing and premium paper, our photo prints are vibrant and vivid with unmatched colour accuracy. 100% satisfaction guaranteed
Whether you're at home or out and about, it's easy to create your photo prints with on your desktop or mobile devices.
Perfect gift to share your joy & love
Create one of a kind photo prints with your digital photos or social media feed to share with friends, for family, or just for yourself
Classic prints, collage photo prints, photo strips to retro prints, we're pretty sure there's a size and format you'll love. ✨
Our Photo Prints are the best way to enjoy and share your digital photos. Showcase your favourite memories in different sizes and styles. Make it full bleed or add a white border for that vintage look.
Pick a style and get started!
It's More Than a Print!
Printed with archival-quality inks on professional-grade photo paper, these are real keepers, meant to be enjoyed for years to come. Great moments to hold onto. Print them, share them and always cherish them.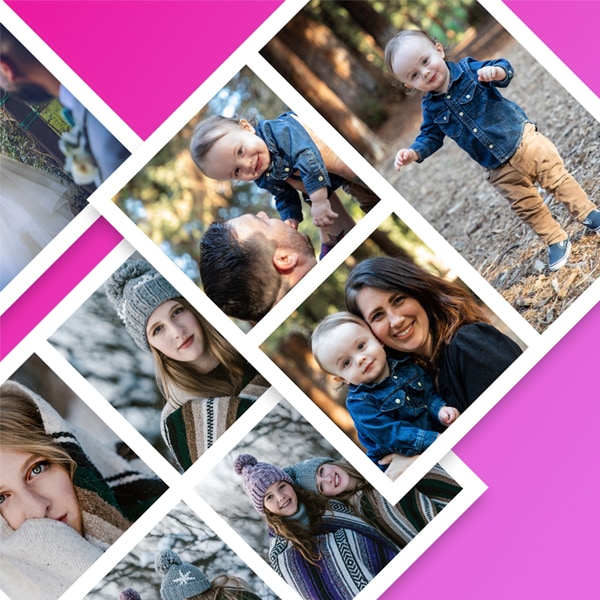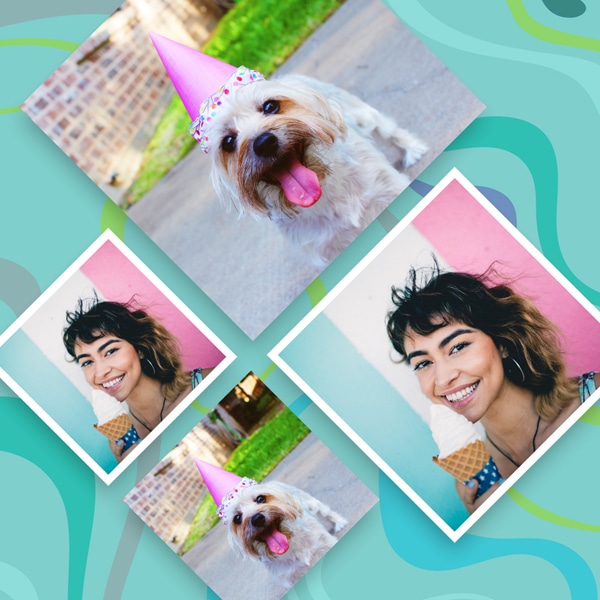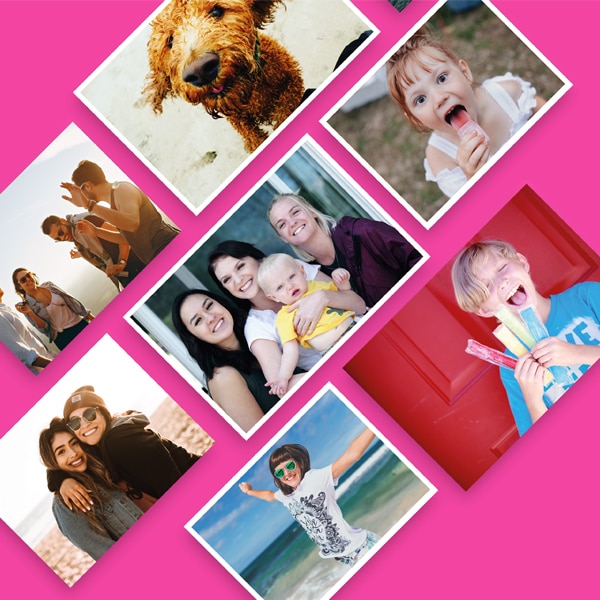 Print your Photos Online
Browsing your photos on your laptop or smartphone may be quick and convenient but there is nothing like holding actual photos in your hand or displaying them on your walls. Whether you're decorating your home or creating a display, we cover all of your photo printing needs. Our professional photo printing tools guarantee a flawless finish and pin-sharp detail. You can print as many or as few pictures as you want. The digital photo printing process itself is straightforward and intuitive, and the results speak for themselves. We will transform your digital photos to real photo prints with strong, natural colours and an impressive level of contrast. Try us now to find out just how easy it is to print photos online and share your prints with family and friends.
Photo print sizes
At photogifts, you can get photos printed in a selection of sizes suitable for desks and mantelpieces as well as walls. Premium photo print sizes come in various sizes. Choose from the Classics like 4R, 5R and 6R, the Squares (7 x 7cm, 10.2 x 10.2cm and 12.7 x 12.7 cm) or to give your photos the Retro look. And if you can't settle on just one stand-out image, you can always arrange a collage of several different photos in one print.
Square photo prints
For a tighter, more intimate format, we offer a range of square photo prints. Our Square Prints are a good option for favourite snapshots of friends and family. Combining the warmth of a candid moment caught on camera with the luxurious quality of our superior photo printing, you get the best of all worlds in one neat and tidy package.
High quality photo prints
What is the secret of high quality photo printing? One of the most important ingredients is the paper, and ours is semi-gloss archival photo paper. You'll see the results in the professional quality of our photo prints. Good quality photo prints such as ours have a sense of depth that comes from the contrast of lights and darks. The same is true of the nature of the colours you'll find in our photo prints, rich yet true to life.
Photogifts Online Editor
Our online photo printing services let you make the most of the pictures stored away on your computer or phone. To learn more about our picture printing services, check out our colourful Retro Prints and magnificent photo enlargements. And as well as premium prints, you can create wall art, calendars, cards and a host of other personalised items. It's all part of the photo service at photogifts.
Print Instagram and Facebook photos
As well as going directly to our website, you can also get photos printed via our online creator tool. Especially handy for those with a strong presence on social media, it allows you to print photos from Facebook and Instagram with a few swipes of your thumb – time to put your favourite selfies and profile pics down on paper.
Photos with a white border
To add the finishing touches to your photo printing project, why not opt for retro look and frame your photos with white borders? A crisp border of pure white helps photos stand out from their surroundings and gives them a more intense feeling of contrast. It looks good in conjunction with a conventional frame or instead of one.
Turn your photos into unique photogifts
Ordering photo prints online is not only simple and fast, but also fun and creatively rewarding as your work is brought to life in a tangible product. Whether you order one or two photo prints or a whole bundle, you'll incur only the same standard delivery charge. You can sit back and relax before the photo prints you bought online turn up on your doorstep. But however efficient and professional we are, we never forget that the main reason all of us preserve photos is because of the powerful emotions they convey. And that's why you're in such good hands when you order photogifts from us.
photogifts ♥ photo prints!